The Friends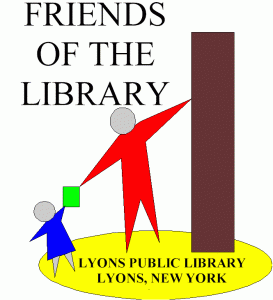 What does it mean to be a Friend?
 It means that you believe that our community's library is one of its greatest assets. You may have a passion for reading whether it is in print, audiobooks or downloadable eBooks. Or you use the library's computers and Wi-Fi access for college classes, homework, staying in contact with friends and family, doing research or applying for a job online. Maybe you are a family looking for some good movies to watch. Perhaps you are a teen browsing for magazines or videogames. Just maybe you are a child looking for some good stories and want to play with the library's puppets and puzzles. The Lyons Public Library is vital to all members of our community.
The Friends is a group of people dedicated to supplementing library services, raising community awareness and promoting the use of the library and its facilities. Continual attention and updating to our materials and equipment will assure the growth of our collection of books, magazines, audiobooks, eBooks, videogames and DVDs. Computer technology is rapidly advancing, and Friends support helps us all experience the adventure of the information age's latest tools.
Becoming a Friend is one valuable way to give something back to our community. When we help the library, we help family, friends and neighbors. It is your opportunity to be a voice in our community by standing behind this priceless institution. Annual basic membership for 1 person for a year is only $5! Other memberships are as follows: Family – $10, Patron – $25, Benefactor – $50 and above. You can click on the link below to download a membership form.